"Which type of heating system is the best type for our home ?"
Boilers
In terms of the best system for your home there are of course a number of factors to consider however generally speaking if you  have access to mains gas you are probably in an urban location and should probably consider Natural Gas as your favoured fuel option. for optimum performance our condensing boilers are cutting edge when it comes to high efficiency
We also have LPG boilers available for rural locations however if you have the budget and a suitable section we would recommend you consider the use of a ground source heat pump in place of a boiler or if you have ready access to wood then you should consider one of our high efficiency clean burning wood boilers. 
Our range of boilers ar manufactured by Biasi one of Europes largest heating product manufacturers
When it comes down to Under floor or Radiators consider....
Under floor by  design has a long heat up time from off  to full heat (average of 5-6 hours) and therefore, it is more effective if used 24/7 (all be it with set back temperatures to keep the output lower during periods when the home is not occupied or during the night,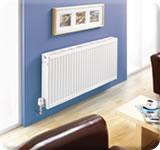 On the other hand radiators will be up to temperature within ten  minuites and have significant heating effect within 20 to 30 minutes this allows the system to be used efficiently for short periods, typicaly early morning and afternoon/evening or for only 6 - 8 hours daily.
In conclusion , 
In terms of running costs - though Under floor is more cost effective (cheaper) per hour to run - Radiators need only be run for a limited time each day and therefore radiator systems will often be in the region of 25% more cost effective over a season.
We are happy to advise you further on system type suitability. Please see our design service page.
​